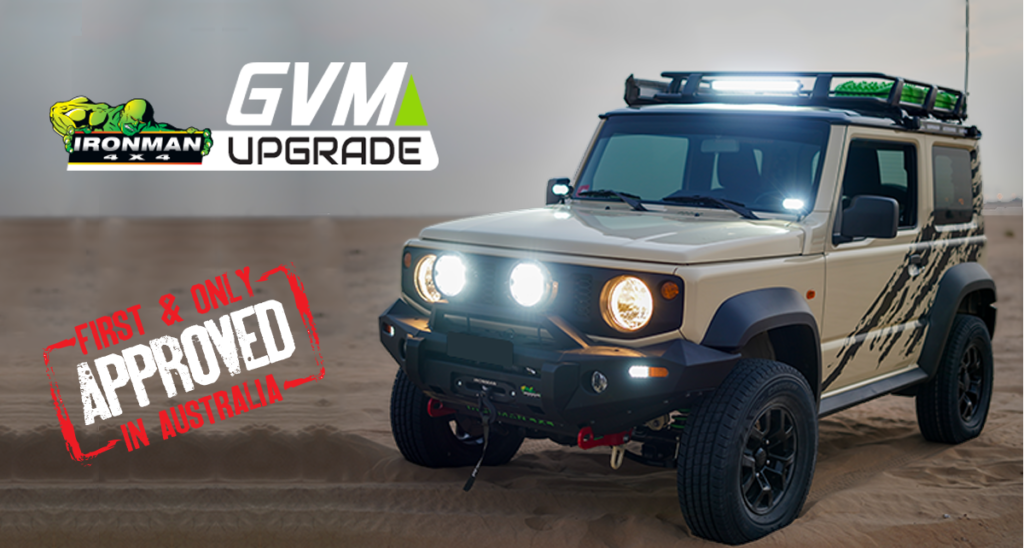 SUZUKI JIMNY 2018+ FEDERALLY APPROVED 1785KG GVM UPGRADE.
UP TO 350KG MORE PAYLOAD
Ironman 4×4 now offers the FIRST AND ONLY federally approved GVM Upgrade to suit Suzuki Jimny GJ 2018+.
Released to the market on the 18th of September, the GVM kit provides Suzuki Jimny owners with more loading capacity for accessories and gear to cater for their towing and off-road needs.
The original GVM of 1435kg is increased to 1785kg with revised axle loading limits of 800kg front and 1100kg rear, this is up from the OE figures of 680kg and 880kg respectively.
The suspension upgrade boasts exceptional ride quality and handling characteristics, as well as an increase in ride height 45mm above standard.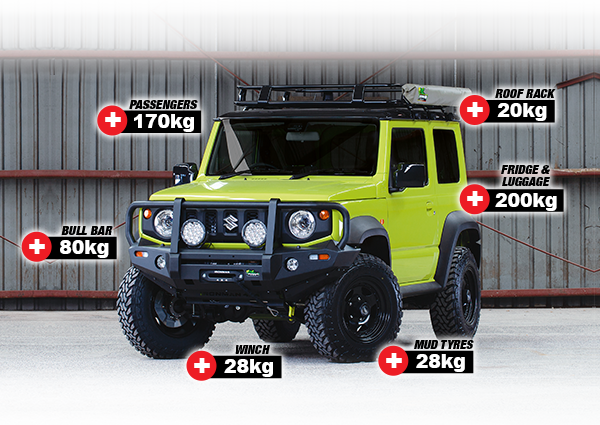 WHY CONSIDER A GVM UPGRADE?
The usable payload of many 4×4 vehicles today is minimal. By adding basic vehicle accessories and having two or three adult passengers, the vehicle will be brought close, if not over, its legal maximum weight, also known as the Gross Vehicle Mass (GVM).

With an existing payload of 340kg, a GVM Upgrade allows Suzuki Jimny owners to fit bull bars, winches, roof racks, recovery gear and a carry camping equipment, without exceeding the new GVM.
With each accessory carried by the vehicle, the responsiveness of the Original Equipment (OE) suspension changes. The OE manufacturer designs their suspension kits for comfort above all else and the addition of load can compromise ongoing performance.
GVM Upgrades assist in satisfying insurance and road transport regulation requirements, as Ironman 4×4 has conducted all required testing to ensure complete integration with all safety systems and requirements as well as compliance with federal laws.